Thank you girls so much, you are some of my favorite bloggers out there!
First i got the Mariuca Star award from Marzie and Taylor awarded me with the Beautiful Blogger Award! Thanks girls I really appreciate it and oh i think i have to come up with my own award too so that i can share some love with everyone!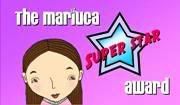 This new awards will be proudly added in my Awards Gallery!