How can this woman be considered fat?? Don't talk about cellulite! Every woman in the world has it… more or less visibly but it's there believe me!! Karolina Kurkova looks fantastic to me… maybe her problem is that she actually looks healthy and that usually scares some uptight people in the fashion business.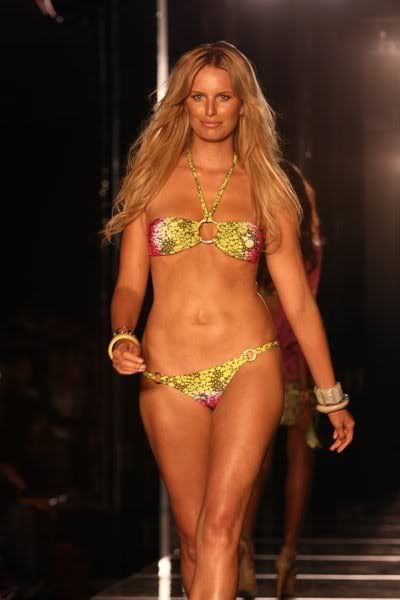 Fashion critics have blasted model Karolina Kurkova for looking too fat in a bikini. Seriously. The Czech model wore a bikini in a recent Cia Maritima runway show and revealed what the horrified style snobs called "back fat, love handles and cellulite."
Karolina Kurkova, 24, is one of the highest-earning models in the world, according to Forbes, and is best known for being a Victoria's Secret Angel and whose super-fit physique has graced the pages of international fashion mags.
But after the show during Sao Paulo's Fashion Week, a Brazilian paper noted that the leggy 5-foot-11 Kurkova "shocked" the audience when she appeared looking uncharacteristically chubby with "cellulite on her butt." (source)
Go Karolina! You look fabulous!!
[photos]