Mary-Kate Olsen goes to Letterman to promote her new movie, The Wackness, in which she had a very hot making out scene with Ben Kingsley and ends up talking about Spencer Pratt.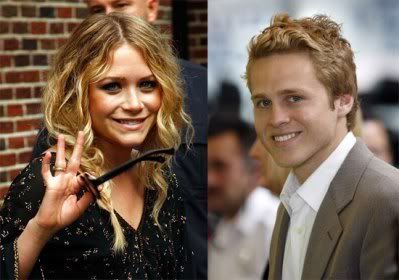 When it came to the subject of media whores, Spencer Pratt came up. She didn't exactly have warm tender feelings.



David Letterman:

"Don't you think he is a little wormy?"


Mary Kate Olsen:

"Yeah. He used to play on the soccer team for um…high school."


David Letterman:

"That guy on the soccer team?"


Olsen:

"He does not have a good temper. He walked out of a few games. He would walk off the field. He was like, 'Me or the coach! "


Letterman:

"Oh, a bad temper on the soccer field?"


Olsen:

"Yeah, yeah. He walked out on a few games."


Letterman:

"He did what?!"


Olsen:

"Walk off the field. He was like, "me or the coach!"


Letterman:

"Were you friends with the guy?"


Olsen:

"No."


Letterman:

"I'm surprised about the soccer because looking at the guy, he looks like he has never broken a sweat."


Olsen:

"Oh my God, yeah! That brings up stories! I don't know if I should talk about them."


Letterman:

"Lets hear one! Lets go!"


Olsen:

"The Wackness is a great film!" (laughs)


Letterman:

"How does he get to be so oily at that age?"


Olsen:

"It is a mystery to me." (source)

Check the video here>>

Spencer lost no time to answer cause he loves this, he craves for attention, he breaths futility!!
"I don't really get why she'd use my name to get press for her little indie film that no one's going to see. She should probably focus more on not getting dressed in the dark than on me."
"I know I've made it in Hollywood when a famous troll is talking about me on Letterman," Pratt told US Weekly.
"I forgive her, though," he added. "She's had to go through life as the less cute twin, which must be tough."
I love it!! There's nothing funnier than Spencer "brainless" Pratt calling Mary-Kate a troll. And I wonder if he has a mirror at home… it's not like he is the cutest man on earth but Spencer can be proud to be the dumbest in history of mankind!
Go Mary-Kate!! Just ignore him… he wants you to talk about him!!
[photos - Mary-Kate Olsen arrives at the "Late Show With Dave Letterman"]