Jennifer Lopez's diva behavior has no limit, which includes controlling and bossing Marc Anthony around. Poor Marc is soooo scary skinny that it shows he is suffering from abuse… physical abuse!!!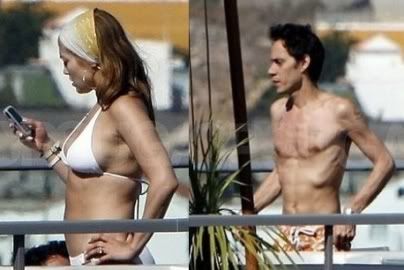 "…She uses Marc as an extra set of arms-but only ends up criticizing him. Marc doesn't dare to ever question her strict guidelines," an insider says sharply.
In fact, Jenn's got an entire list of demands for her personal manny, including wrapping twins Max and Emme's bottles in "special blankets." So that she may get a full night of sleep, the Selena star requires that Marc be on-call to care for the kids between 10 p.m and 8 a.m.
"He has fallen so far down on her list of priorities that he is practically invisible."
Jennifer even picks coordinates her husband's outfits! "At first he was happy that Jennifer dressed him, but now he has no say at all in what he wears." (source)
I told you so…
Marc stays up all night while JLo takes her beauty sleep
. The guy is disappearing, if he loses anymore weight he will be a corpse. I feel sorry for Marc… come on over Marc we will feed you an hamburger twice a day!! If anyone wants to donate for the cause email me at confessing7girl [at] gmail [dot] com.
[photos]