Miley Cyrus was out and about with co-star, Cody Lonely, way past their bedtime on a school night. The two were having fun and they seemed pretty comfortable with each other, which sparked rumors of a romance between them. Or maybe this is just Miley's plan to get back at Nick Jonas cause he traded her for frenemy Selena Gomez.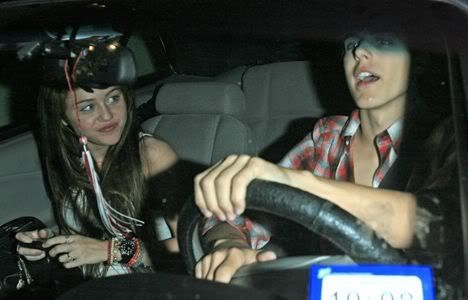 Nick Jonas, Miley Cyrus and Selena Gomez are trapped in a love triangle, made public through their music:

Like this past summer when Miley Cyrus bitched about the "7 Things" she hates about some guy, especially how he makes her love him. That was totally all about Nick Jonas! And then Nick had a song on the new Jonas Brothers album called "Sorry" about him and a special someone "going our separate ways." Could he have been talking about Miley?
Now, Selena Gomez is getting in on the meaningful lyric game with a song titled "I'm Sorry," which she tells Twist about:
"A boy I kind of fell for, but he couldn't let his ex-girlfriend go, and it was really difficult. And I felt like in a way, I wasn't good enough. So the song is basically me saying that I'm sorry that it didn't work out or that she used to be who she was, but you have to let me in and you have to know that I'll do everything I can to make you happy and be the best I can be." (source)
So young and so much drama and hate!
Miley Cyrus
seems to be totally over Nick and into Cody! Romance is in the air.
Photos: FYB