Karl Lagerfeld designed a T-shirt and Gwyneth Paltrow was the chosen model for a new campaign "Key To The Cure" to raise money for cancer research. The idea is good but the outcome is terrible!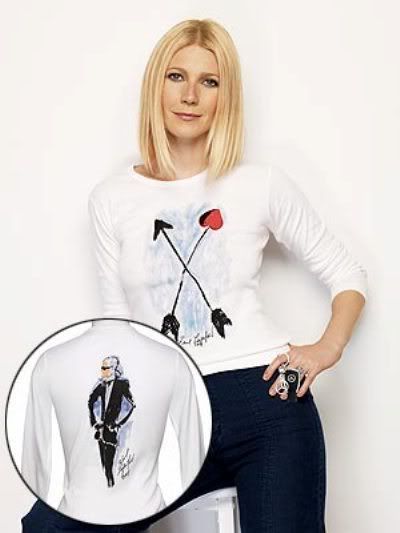 Gwyneth Paltrow has been named the Entertainment Industry Foundation's (EIF) ambassador for Saks Fifth Avenue's 2008 KEY TO THE CURE campaign, a women's cancer initiative founded in partnership with EIF's Women's Cancer Research Fund. The limited edition T-Shirt modeled by Gwyneth was created by legendary designer Karl Lagerfeld and features a cross bow and arrow on the front and a sketch of Karl himself on the back. Gwyneth will appear in all KEY TO THE CURE ads and a public service announcement wearing the T-shirt. Karl's limited edition work will hit Saks Fifth Avenue stores and their website on October 1 and retail for $40 with over $35 to exclusively benefit KEY TO THE CURE. (source)
Why does the t-shirt have Karl Lagerfeld's stretch of himself on the back?? Are they fighting for cancer or promoting the designer? One signature would be enough!! What are those 2 crossed arrows supposed to mean and what does it have to do with cancer?? The campaign was named "Key To The Cure" … wouldn't it make more sense to have a lock and a key on the t-shirt?
Couldn't EIF find a more interested and creative designer?? Big shout out to the photographer Julian Broad and Gwyneth Paltrow that donated their time to cause! Gwyneth actually looks amazing… I didn't just say that! I claim temporary insanity!!