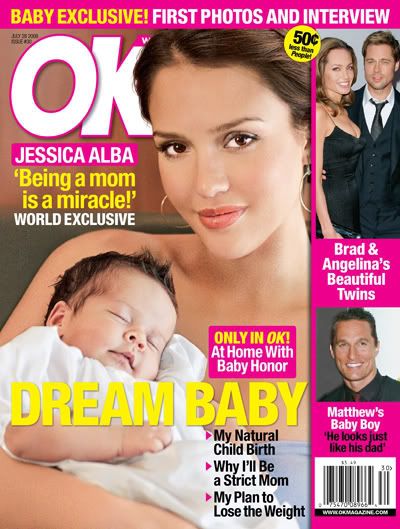 On giving birth: "I didn't scream. It was really Zen. The labor was more like meditation, I did yoga breathing. I was focused."

On baby Honor Marie Warren: "It hasn't totally sunk in. She dreams, she smiles, and coos and does all these things, but she hasn't seen enough of the world yet to understand any of that stuff. So I still feel like she's connected to the other world, or something. There's no other way to explain it. It's a miracle."

On getting back into shape: "I started working out last Thursday, but for 20 minutes. I do cardio on my own. I'm doing it slow," she says. "Now I'm starting to eat more healthy. Because after working out, having fried chicken and mashed potatoes is a little counteractive."

So who does Honor look more like?
"She looks like a girl version of me," Cash says. "She has my nose, my eyebrows and my..."
"Forehead and dimples," Jessica finishes, adding, "She has my mouth when I was a baby. And my ears."
"Maybe Honor is a mixture," Cash reconsiders. "I want her to look like me, because a daughter looking like Jessica, I'd kill myself!"

For complete exclusive photos and interview buy OK! in newsstands near you!